YOU HAVE JUST 15 MINUTES TO COMPLETE YOUR MISSION...
do the chores for your parents
Pick up your little brother from school
Get the shopping from the super market
Get a video from the video shop
Get home Ready for the evening out
Get home Ready for the evening out. If you fail, you stay in and watch a video with your parents.
If you succeed your get an evening out and take your friends to the Cinema;
Pick up Sarah from her house
Pick up Scott from his house
Pick up Johnny from his house
Get to the Cinema BEFORE YOUR 15 minutes IS UP
Driving controls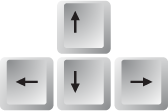 PARK IN THE CENTRE OF THE FLASHING TILES
Penalties
Hit A pedestrian - game over
Hit any other obstacle -10
Hit the kerb -20
Wrong way past one way sign - 20
Wrong way through traffic light - 20
Speeding past speed limit sign -10
Speeding past speed limit sign -10
Scoring
On FINISHING your mission you get 10 bonus points for each minute of time remaining. Damage penalties are deducted from this to calculate your final score.